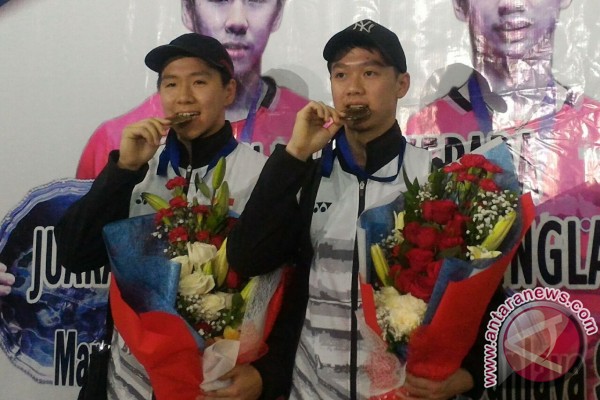 TEMPO.CO, Jakarta – The victories achieved by Marcus Fernaldi Gideon and Kevin Sanjaya Sukamuljo at the recent All England tournament is a refreshing welcome, in the midst of a dearth in Indonesia's badminton rankings. They are not only champions, they dominated the men's doubles at the world's oldest badminton tournament at Birmingham, the UK, last March 7-12. 
Since the first round of this super series tournament, Marcus and Kevin only lost one set, and that was in the rubber set game during the semifinals against the Danish duo, Mads Conrad Petersen and Mads Pieler Kolding. In the finals, they beat Li Jinhui and Liu Yuchen of China in two straight sets, 21-19 and 21-14. Yet, Marcus and Kevin entered the tournament as underdogs, although they were champions at the Australia, Indian and Chinese Opens. "We are often underrated," said 21-year old Kevin.
Their victory at the All England tournament has shot their world ranking up from number five to the top. "We proved that our wins in the past were not just lucky," said 26-year old Marcus. 
Last Thursday, in the middle of preparations for the India Open in New Delhi this coming March 28-April 2, Marcus and Kevin met Tempo reporters Raymundus Rikang and Reza Maulana at the National Badminton Training Center, in Cipayung, East Jakarta. Still affected by jetlag from their UK trip, they shared their views on the All England tournament, their training and the issue of bonuses.
What differentiated the All England championship from your three other previous wins? 
Kevin: The All England is different for its prestige level. So, we are more proud about winning this tournament. I believe all badminton players dream of becoming All England champions.
How much more prestigious is it than other tournaments?
Kevin: The Olympics is still the top, followed by the World Championship and the All England. Then comes the Asian Games. If Indonesian badminton players can win all of those tournaments, that would be a round-up of the best championships. Only one person has achieved that, and that's Hendra Setiawan. Other top players have not reached that level of completeness. To be sure, not all championships can be won before retirement, like Taufik Hidayat, who has never won at the All England.
Is the status of the All England tournament because it's been around since 1899
Kevin: Yes. There's something different about it. The courts feel different than other tournament venues. When we enter the court, the air feels different. It's hard to explain.
Marcus: The All England tournament is glorious. The Barclayard Arena where it all happens, has a 15,800-seat capacity, the biggest venue for badminton tournaments. It's always filled to capacity. Because it's the oldest tournament, it's a big thing to be able to win there, although the prize doesn't equal that of the Indonesia Open.
What was the target you were told to achieve at the All England?
Marcus: Nothing personal. Coach Herry Iman Pierngadi expected either we two, Angga Pratama-Ricky Karanda Suwardi or Mohammad Ahsan, who now teams up with Rian Agung Saputro, to win a title in the UK. Our coach sees us all as being equally strong.
Aren't you expected to do best because your ranking is better than the others? 
Marcus: No. We left for the UK with a ranking the same as Angga-Ricky. We are fifth rated, they're number eight.
Will your recent victory spearhead efforts to win at the Olympics and the World Championship? 
Marcus: It would be wrong to say that our previous win was a lucky one. We have proved that we are the doubles champions of a prestigious and famous tournament.
Does this have something to do with proving that your abilities were not properly acknowledged at the training center? 
Kevin: It's true, we were often ignored and always regarded as being under the shadow of Hendra Setiawan-Mohammad Ahsan and Angga Pratama-Ricky Karanda Suwardi. In fact, even after winning the 2016 India Open, we were underrated. But that didn't bother us. We especially enjoyed playing at tournaments because of our status. There was no pressure on us.
How do such perceptions emerge? 
Marcus: In the past, there were two men's doubles groups being coached at the training center. Ahsan-Hendra and Angga-Ricky were coached by Herry, while Kevin and I and the other juniors were trained by Hafid Yusuf, although at that time, we had already won the super series title. Under this new management, thanks to the recommendation of Ricky Subagja and Rexy Mainaky, the two groups were merged and we all trained together under Herry and Hafid became his assistant.
Why were there two groups in the first place?
Marcus: Better ask that question to the previous PBSI (All-Indonesia Badminton Association) management. I don't know how to answer that.
Has there been any difference since the two groups were merged?
Marcus: We feel more united because we compete together. Before, we felt as if we were competing against each other.
Who paired the two of you together?
Kevin: Coach Hafid at the end of 2014. It was unintentional because my designated partner at the time was Salvanus Geh, who got hurt. (*)